07/22/2019
On Sale Now!
A Case Study Approach to Ethics in Career Development, 2nd Edition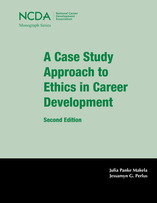 The second edition tackles some of the most vexing questions that career development professionals encounter today. The often intimidating topics of ethics and professional standards are made accessible to career development professionals at all levels - beginners-in-training who are navigating difficult situations for the first time, seasoned professionals who are expanding their learning through shared experiences with colleagues, and everyone-in-between.
On Sale for $20.00 through August 31, 2019.
Shop the NCDA Career Resource Store for this monograph and more valuable publications from NCDA.
---